| Yearly Overview 2017 | prices per week starts at* |
| --- | --- |
| 01.03. - 23.06.2017 | 350,00€ |
| 23.06. - 30.06.2017 | 560,00€ |
| 30.06. - 14.07.2017 | 660,00€ |
| 14.07. - 25.08.2017 | 860,00€ |
| 25.08. - 08.09.2017 | 660,00€ |
| 08.09. - 03.11.2017 | 350,00€ |
* depending on the equipment with or without dishwasher, oven, microwave and disposal.
Rates are based on occupancy of 2 adults and 2 children.

Prices are valid for:
HUTT 009995 - 009996 - 009997- 009998 – 009999 – 010000 – 010001 – 010002 – 010003 (catalan code for registered turistic rental)
Additional costs on local level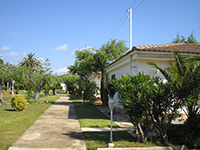 Gas (heating) upon consumption, approx. € 18/bottle

Final cleaning can be done by the tenant or alternatively by us against payment of € 75 - € 100

Tourist Tax

Rental of towels, € 4 per person/rotation (please book it in advance)

We have cots available (if within the allowed amount of people in one bungalow), € 18 per stay (available upon request). Highchair € 10 per stay (available upon request).
Pet € 50 per stay (only available upon request and admission is restricted to our approval)

Safety deposit € 200

Surcharge for occupancy with another person € 100 per week.
Other information
To take care of the house there is always a small amount of cleaning supplies available.

Surcharge for occupancy of an additional person 100,00 Euro per week. Surcharge for 1 additional child 50,00 Euro per week.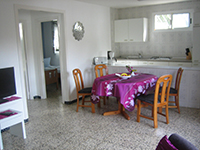 Each bungalow has a private terrace (25 sqm) that is equipped with an awning, garden furniture and drying rack.

Towels and bath towels are not provided. Please bring them with you. Alternatively you can rent them from us at an extra rental fee.

You can wash your laundry during your holidays upon request. Let us know your needs to let you know the laundry fee.