Touristic attractions within a radius of 100km
Cities of Tarragona, Reus and Barcelona as well as the monasteries of Montserrat, Poblet, Vallbona de les Monges and Santes Creus. Wine and Cava (catalan champagne) tastings in Sant S'Adurni d'Anoia. The Ebro delta with the rice farming and the cities of Amposta and Tortosa. Last but not least important Port Aventura in Salou and soon Ferrari Land.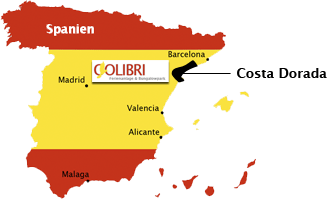 About Cambrils
Cambrils is a major tourist destination because it is located in a privileged place in the heart of the Golden Coast of Cataluña, Spain. It is a coastal town that has a total of 9 km of sandy beaches and is an ideal place from which to see the rest of the territory. It's economy is traditionally based on fishing and agriculture. Thanks to the fruits of sea and land, the gastronomy of Cambrils owns high quality raw materials that define the cuisine as one of the best in the country. You will find typical sailor dishes and local specialties of excellent quality in the many and varied restaurants. The fishing harbor and daily fish auctions give their personality to the coastline, together with the marina they are the great attractions for visitors along with the old part of town. The arrival at the port of fishing boats, between four and five pm (except May and June) and the entry of fish in the market hall make a stroll over the pier of Cambrils the best way to enjoy the marine atmosphere. Cambrils has 9km of sandy beaches offering numerous activities and services: playgrounds, beach shacks, tents and hammocks, skates, amphibious chairs, showers and toilets, etc..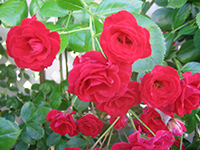 Additional costs on local level
Electricity, Gas and Water are included in the rental price.
Depending on the season and in case you require heating we would calculate the costs following your consumption.
Equipment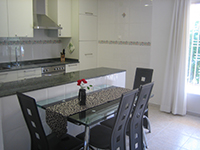 Our bungalows are furnished in a modern style. Their size is about 60sqm and they are equipped for 4 or alternatively 5 people.
(additional charge for adults € 100,00 / children € 50,00 per week).
1 bedroom is equipped with a double bed, 1 bedroom is equipped with two single beds or 1 single bed and a bunk bed.
Alle beds are equipped with their bed linen.
For the little ones you can book a cot and a highchair if needed. Please let us know your needs in advance to check availability and costs.
Living and dining room with Sat-TV, Bath / WC incl. shower mat, fitted kitchen with tableware, cutlery, pots, pans, coffee maker, toaster, blender, iron, tea towel, etc.
All windows of the bungalows are equipped with mosquito nets.
For the children
Sandpit, swing, jungle gym, trampoline, slide and bobby car, tricycle, scooter, table football, basketball and volleyball court and table tennis.
Medical care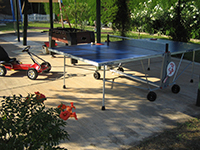 MS Doctors(Spanish, English, Nederlands and Russian)
Private medical services - 24 hours home visits, General medicine, Traumatology, Blood Tests, Pediatrics
Carrer Valls 4 in Salou and also Passeig de Pau Casals 53 (complex estival park) in La Pineda
Phone 977 383 010 (also urgencies)
www.msdoctors.es
Hospital de Proximitat
Public hospital with 24 hours service of urgencies
Plaça Ajuntament, 4, 43850 Cambrils
Phone 977 36 80 66